About Us
Our Vision
To See People (Individuals and families)
Transformed (changed from the inside out)
Through The Church, the Gospel, and the Reality
Of Jesus Christ
Church:
Connecting people with a community: the church, which is the immediate local family of God who will love each other, encourage, challenge and help shoulder one another's burdens through this Journey called Life.
Gospel:
Sharing the Gospel; the Good News of Jesus Christ, in Word and Deed so that the people around us will begin to truly understand the depth of God's Amazing love for them as revealed in the Holy Scriptures and by the Life, Death and Resurrection of Jesus Christ.
Reality:
Helping people Experience the Reality of Christ in their lives. Not just forgiveness or a hope of someday being in heaven, but the presence of God in their hearts speaking to their souls the wisdom of God, giving them a desire, motivation and ability through God's strength and power to become better people and enjoy the abundant life He wants us each to have.
Our History
In 2014 Stroudsburg Wesleyan Church in Stroudsburg PA had a desire to start a new church in another area. With a desire to connect the hurting with the Love and Comfort of Christ in practical ways. The Sussex Wesleyan Church had been closed for a couple of years. But was re-opened in January 27 2016 by Pastor Willie Vaughan and his family. It began with a simple "Mid-Week Discussion" and had the first "Sunday Morning Worship Experience" on (Easter) March 27 2016. The passion has been contagious and continues to grow to this day.
Our Pastor
Pastor Willie Vaughan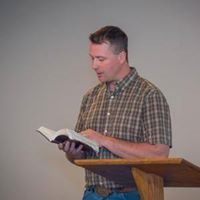 Is the "Lay Supply" Pastor and Church Planter for the Sussex Wesleyan Church. He is working towards his ordination by continuing his education online at Oklahoma Wesleyan University. His Wife (Bobbie-Jo) and their sons are a big part of the ministry in Sussex. He enjoys sharing the Bible in a simple and relevant way. He is passionate about reaching the next generation with the Gospel of Jesus Christ and in addition to His Sunday morning preaching he also works with the growing Youth and teen Ministry.
Our Beliefs
To learn more about our beliefs and the Wesleyan Denomination
click here. www.wesleyan.org/about/our-beliefs